Micheldever Tyre Services – Motorcycle Tyre Supply & Fitting Services
Micheldever ~ Protyre: Motorcycle Tyre Supply, Sales & Fitting
Micheldever Tyre Services, the tyre experts. We are a leading supplier of tyres having built our reputation on providing excellent service and the greatest range of leading tyre brands, including Michelin, Pirelli, Continental, Bridgestone, and Dunlop all at the best prices guaranteed. Get a quote or buy bike tyres online: Motorcycle tyre Selector

Buy your motorcycle tyres online, by phone or visit one of our 50 Protyre tyre centres nationwide.
Cheap motorbike tyres online – Protyre are proud to launch our fully authorised, '2 Wheel Centres', meaning we are fully approved to give bikers the right advice and service. We employ bike trained technicians using the latest specialist bike fitting equipment and offer a prompt 'Ride in, Ride out' service. We have access to a stock of over 20,000 motorcycle tyres so you are guaranteed to get the best tyres for your motorbike. Our 2 Wheel Centres will match any fitted quote, but with our huge buying power you'll get the best motorbike tyre prices online, guaranteed.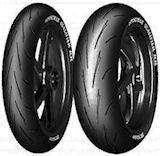 Motorbike Tyres – Any biker will tell you that Motorcycles are special, they have their own temper and many riders will tell you that they have feelings all of their own. That's why we employ specialists throughout the company and in particular our Motorcycle tyre fitters are experienced bikers themselves, they understand the love that goes into a motorbike and the complex relationship between a biker and the machine they ride.
We back up our professional fitters with the very best equipment, the time to lavish on a bike and the best stocks of the leading tyres around. Whatever you are using your bike for we are able to help whether you are looking for tyres for:
Track Days ~ Touring ~ Commuting ~ Off Road Fun ~ Competition
Or just having fun

…our motorbike tyre range will suit your needs. With all the leading motorcycle tyre brands available from: Avon, Bridgestone, Continental, Dunlop, Metzeler, Michelin and Pirelli along with a range of less well know brands our fitters will make your visit both enjoyable, worthwhile and send you out onto the roads with a tyre that suits you and your bikes mood.
We can also help you with your requirements for Brake Pads and Chain and Sprockets. Why not call in and have a chat with our team they will be happy to advise you on exactly what you need.
Micheldever ~ Protyre: Motorcycle Tyre Supply, Sales & Fitting